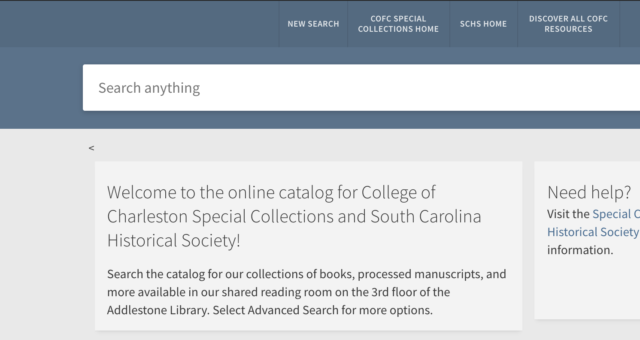 Using the New Discovery Service to Explore and Search Our Collections
Are you ready to explore archives, rare books, pamphlets, and more? The College of Charleston Special Collections and our partners at the South Carolina Historical Society have a brand new search and discovery interface! While you can still find our materials in the new CofC Libraries Discovery Service, we also have a custom interface that limits your search to include only Special Collections and/or South Carolina Historical Society Materials.
Researchers can limit search results by repository, material type, location, date, subject, author, and more! Links to finding aids and digital surrogates of materials (if available) are included in catalog records as well.
Please don't hesitate to Ask Us! if we can assist with navigating our new Discovery Service!