If I travel to Charleston to do research, where can I stay?
The Charleston Area Convention & Visitors Bureau website maintains an up-to-date database of hotels, bed & breakfasts, and other lodging in the vicinity.
How can I search the collections?
Holdings for both Special Collections and the South Carolina Historical Society are described in the College of Charleston's new library Discovery Service. To limit your search to items in the archives and special collections holdings, be sure to select either "Special Collections" or "South Carolina Historical Society" on the left side of the page under "Refine my results."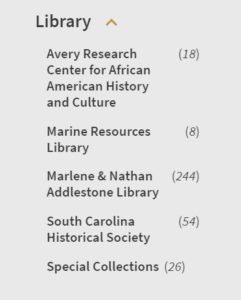 What is a finding aid?
Finding aids are inventories created by archival and manuscript repositories to provide information about specific collections and are used by researchers to determine whether materials within a collection may be relevant to their research. While not exhaustive, finding aids help researchers identify the particular boxes or folders that may hold items of interest. Often times, a link to a collection finding aid is located in the upper portion of the catalog record.
May I check out any items?
No. All items in Special Collections and archives are non-circulating. Please allow for time during your visit to conduct research on the premises.
Can I take notes with a pen?
Use of ink in the reading room is prohibited. Pencils are available for loan at the reference desk.
I am unable to visit Special Collections. Can someone do my research for me?
We support research for the College of Charleston community as well as the public and welcome all inquiries. We can provide collection overviews, instruction on how to locate materials in the collection, and answers to basic research questions. If you are unable to do your research on-site, please reach out and we will do what we can to assist!
Will I have access to the internet on my personal computer in the Special Collections reading room?
Visitors to Special Collections can log in to the College of Charleston guest network using their personal computers. We ask that you limit use of the two public computers in the reading room to searching the online catalog, finding aids, and sites related to your research. Reference staff are on hand to assist you with connecting, searching, and access to the internet and to library resources.
Do you give tours of the Jewish Heritage Collection?
The Jewish Heritage Collection is an archival repository housed under the umbrella of the Special Collections department documenting the Jewish experience in South Carolina from the colonial era to present day. The archives grow out of an active program of collection, field work, and public education.In lieu of tours, we make Jewish Heritage Collection materials available for research on-site in our reading room. Some of the Jewish Heritage Collection materials are also available on the Lowcountry Digital Library. Kahal Kadosh Beth Elohim synagogue,the fourth oldest Jewish congregation in the country, offers docent led tours of their historic sanctuary.