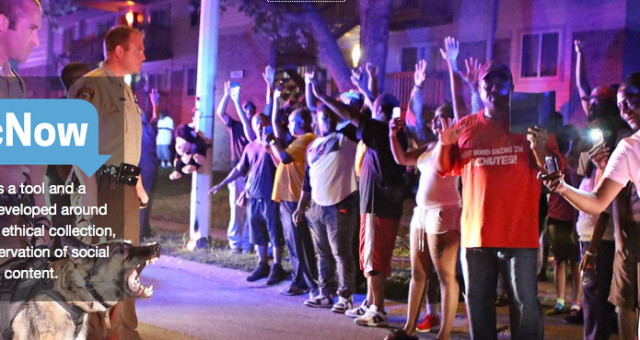 Join Us: DocNow Viewing Group
On Monday and Tuesday, August 22-23, the Avery Research Center and Special Collections at the Addlestone Library are hosting a viewing group of the DocNow Advisory Board meeting and conference taking place in St. Louis.
DocNow stands for Documenting the Now and is a tool + community developed to respond to the public's use of social media for chronicling historically significant events as well as demand from scholars, students and archivists seeking a user-friendly means of collecting and preserving ephemeral digital content generated on social media platforms. DocNow was born out of the events that unfolded in Ferguson, MO and the murder of Michael Brown two years ago. Since then, the project has received money from the Andrew W. Mellon Foundation and is being co-hosed by University of Maryland, UC Riverside, and Washington University.
DocNow project developers followed and archived social media comments and news in the aftermath of the Emanuel AME shooting in Charleston.  Here is a link to a post authored by Bergis Jules (UC Riverside) describing his efforts to capture social media events in Charleston as they unfolded https://medium.com/on-archivy/the-narrative-of-terrorism-in-charleston-b8bd79d81741#.bbdsw12c5
The proceedings will be livestreamed at the Avery Research Center on Monday and at the Addlestone Library on Tuesday. Click here for a detailed schedule of proceedings. Below is a basic schedule.
Please join us! Folks are welcome to come and go as their schedules permit. If you have any questions, please contact either Barrye Brown (brownbo@cofc.edu) or Mary Jo Fairchild (fairchildmj@cofc.edu)
Monday, August 22 (Avery Center for Research, Classroom 101)
Panel 1: Social Media and Opportunities for Research in African American History and Culture
8:45am – 9:45am
Panel 2: Social Media and a Record of the Movement
10am – 11am
Panel 3: Ethics of Social Media Collection and Use
12 pm – 1pm
Panel 4: Social Media Research Data, Tools, and Methodologies
1:15pm – 2:15pm
Panel 5: Social Media Archiving and Community Documentation
2:30pm – 3:30pm
Panel 6: Web Archiving Technology in the Age of Social Media
3:45pm – 5:00ppm
Tuesday, August 23 (Addlestone Library, Room 360)
User Experience Interviews Discussion
8am – 9:00am
DocNow Design Session
9:15am – 10:15am
Wrap Up
10:30am – 11:00am