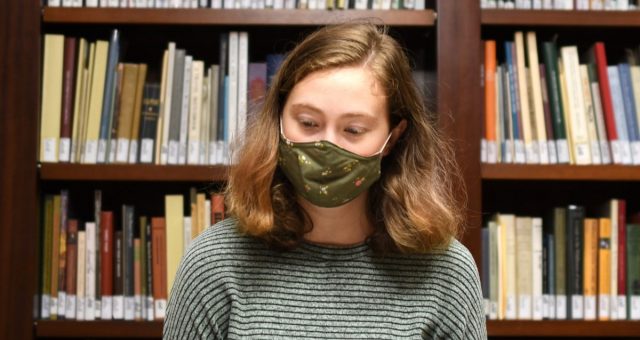 Fall 2021 Reading Room Access and Research Services
The Special Collections and the SC Historical Society Archives Reading Room is open by appointment, Monday – Friday, 9:00-noon and 1:00 – 4:00.
*****In order to limit the spread of COVID-19, all visitors are required to wear a face mask for the duration of their stay.*****
General Information
Occupancy in the Reading Room is socially-distanced and limited. All in-person research will be by appointment only. Walk-in appointments will not be permitted.
To be eligible for conducting research on-site, patrons must have proof current status as a:

College of Charleston student, faculty member, or staff person

To submit a request for research or an on-site appointment, contact Special Collections at https://speccoll.cofc.edu/about/contact-us/. 
Learn more about Special Collections Research and Access Services here https://speccoll.cofc.edu/using-special-collections/access/.
Virtual Services
Special Collections also offers virtual research services. The Special Collections Research Services Desk will be staffed online at http://answers.library.cofc.edu/speccoll/ Monday – Friday from 9:00 am to 4:00 pm with a midday break between noon and 1:00. Staff are also available via telephone (843-953-8016) and email (specialcollections@cofc.edu).
We welcome inquiries from all users, regardless of affiliation. Researchers can get in touch with Special Collections' reference professionals using the Ask Us form on our website. College of Charleston students, faculty, and staff can schedule a research consultation with a faculty archivist here: http://libcal.library.cofc.edu/appointments.
Researchers can also explore collections via our Discovery Service, the Lowcountry Digital Library, or through various Research Guides.