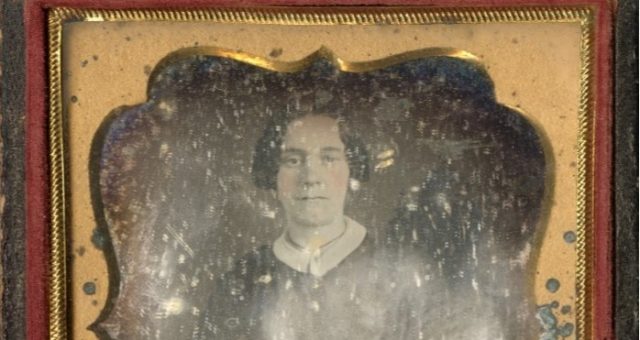 AFFA and Charlotte A. Myers Collections Now Available For Research
Two collections, the Alliance for Full Acceptance (AFFA) records and the Charlotte A. Myers collection, are now processed and open for research.
The Alliance for Full Acceptance (AFFA) Papers (Mss 0205)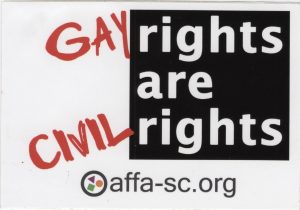 The Alliance for Full Acceptance (AFFA) is a social justice organization located in Charleston dedicated to achieving equality for LGBTQ people. From its beginning in 1998, AFFA's goal has been to advocate for the equality of LGBTQ people in South Carolina through promotional campaigns, legislative action, and social events. Some of AFFA's important campaigns include buying space on billboards on Interstate 26 in South Carolina, and producing TV, radio, newspaper, and Internet ads promoting LGBTQ equality and acceptance. AFFA was heavily involved in the campaign to oppose the 2006 referendum on Amendment 1 to the South Carolina constitution, which made it unconstitutional to perform or recognize same-sex marriages in the state. AFFA produced a radio show called "Equal Time" from 2006 to 2007, which was broadcast on station 730AM in the Charleston area. The show discussed various LGBTQ topics with local and national community members as guests. 
Charlotte A. Myers Collection, 1818 – 1943 (Mss 0213)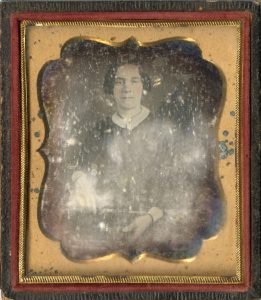 The Charlotte A. Myers collection consists of materials relating to Myers, her adopted daughter Caroline Griswold, and Griswold's nieces and nephews from the Hartley family. Materials relating to Myers contain correspondence and a newspaper clipping about her divorce from Rufus Wilmot Griswold as well as a daguerreotype portrait of Myers, a poem by her aunt, Hesse Myers, and a commonplace book containing paper cuts, art prints and newspaper clippings about the Civil War and military history, poems and short stories. Materials relating to Caroline Griswold include letters from Caroline to Searles and letters from her father to Searles about her custody. There is also a daguerreotype portrait and a pencil sketch portrait of her as well as assorted writings, including a poem and fiction stories published in Southern Field and Fireside under the pseudonym Carrie. The Hartley family correspondence contains letters between members of the Hartley family concerning Rufus Griswold and Charlotte Myers. There are also letters between members of the Hartley family and Joy Bayless, author of the biography Rufus Wilmot Griswold.
To view the AFFA records and the Charlotte A. Myers collection, visit Special Collections on the third floor of Addlestone Library during business hours, Monday through Friday from 9am-5pm.